Harley NIOSH N95 L-188 Surgical Medical Mask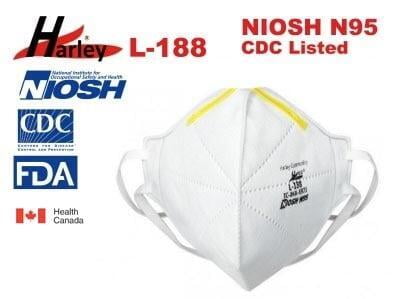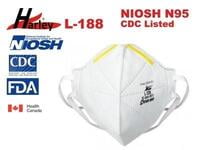 This Product is Available for Large
quantity
orders. Please contact your sales rep today at Toll free: 1-844-447-8008 or info@piximed.com
Qualified N95 Face Mask Respirator

Product Specifications:
Product: N95 Mask (N95 Particulate Respirator)
Type: Flat Folded Type
The functionality such as penetration, breathing resistance and strap strength of this respirator meets the N95 standards. The Mask is also foldable and easy to store and can adapt to the wearer's facial features. The mask comes with adjustable padded nosepiece which provides a close and comfortable fit. The mask is also hypoallergenic and latex-free.
N95 (The N95 represents the level of protection. The mask filters at least 95% of particles at a particle size of 0.3 micron).
Fitting Instructions:
1. Open the respirator with both hands.
2. Cup the respirator firmly against your face with the nosepiece on the bridge of your nose.
3. Stretch and pull the lower headband over the head and position below your ears. Stretch and pull the top headband on the back of your head above your ears.
4. Press plastic nosepiece to conform snugly around your nose.
• To test the fix of a respirator without an exhalation valve cup both hands over the respirator and exhale sharply.
• A negative pressure should be detected inside the respirator.
• If the air flow is felt in the nose area, re-adjust/tighten the nose clip.
• If the air flow is felt around the edges of the respirator, reposition the respirator/head strap to achieve a better fit.
6. Change the mask immediately if breathing becomes difficult or mask becomes damaged or distorted.
7. Change the respirator if a proper face seal cannot be achieved.
8. Careful observance of these instructions is an important step in safe respirator use.